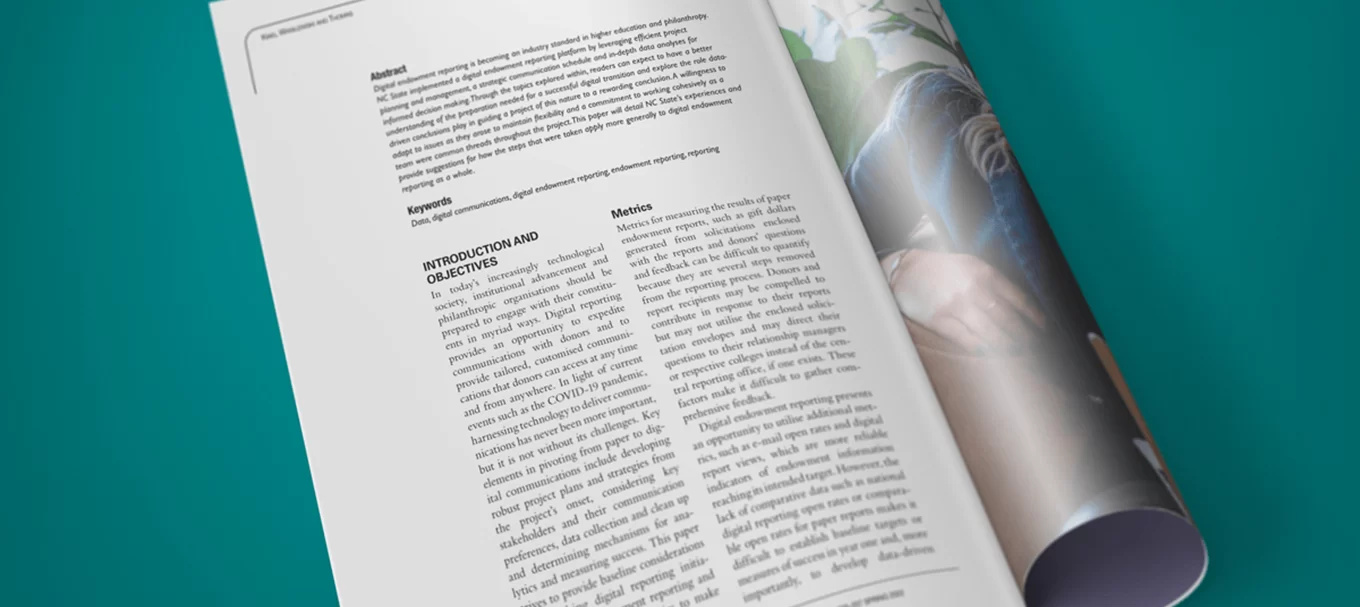 Back to Updates
How to Strategize for Digital Reports
August 3, 2022
It's easy to envision the end goal of transitioning to digital stewardship reports. Easier processes, a more sustainable product, and the ability for donors to view reports anywhere they take their phone? Yes, please! Anyone who's managed an organizational change project, however, knows the strategy around change process isn't always as simple as identifying the desired outcome. Thankfully, our clients at North Carolina State University literally wrote the guide on the strategy and managing the transition to digital stewardship reports. Their article, "Harnessing data to strategize for digital endowment reporting," outlines best practices for creating effective reports, building buy-in, and managing timelines, based on their experience using Ovrture to create an innovative new stewardship experience.
What did they learn?
Staff the transition appropriately. Your staff are already busy, and change is a lot of work. Identifying the right project leader and creating space within their workload can help create internal enthusiasm for a project, as well as higher quality outcomes.
Capitalize on digital data. Ask questions early on in the planning process to determine the goals for your reports. The goals don't have to be the same as they were for your print reports, so think creatively! Are there opportunities to highlight engaging new content, or measure outcomes that didn't apply to print? Plan it out, then use digital analytics to measure success.
Create and follow a thorough stakeholder engagement plan. Who needs to be informed, who needs to provide input, and who needs to be persuaded? Using our onboarding process as an outline, NC State developed a thorough plan for engaging internal and external stakeholders. The result was an organization primed to adopt new ways of working.
Lastly, craft your delivery email carefully! The first step to any successful digital report is the initial outreach. One of our favorite lessons from NC State: emails coming from a named sender are more likely to generate clicks!
Curious to learn more and read about NC State's strategy? Check out the full article in the Journal of Education Advancement & Marketing or download a PDF HERE.
Finally, are you ready to make your own transformation? Schedule a demo for your team!

Gideon Rosen
Account Supervisor, Client Engagement
Gideon Rosen
Account Supervisor, Client Engagement
Gideon helps clients with whatever is needed to make using Ovrture second nature. He leads the onboarding process to successfully launch new systems and engages with existing clients/tenants to drive adoption.