Back to Updates
State of the Platform | July 2019
We are pleased to share Ovrture's State of the Platform update for 2019. I wanted to use this space to concisely capture the significant progress Ovrture has made over the past year.
2019 Updates
First and foremost, we are thrilled and incredibly appreciative that our clients (now numbering 26!) continue to find deep value in the platform. Day after day, we are energized by the stories of how Ovrture is used. Both in expected and unexpected ways with major donors, partners, foundations, and others. Furthermore, the idea of hyper-personalized, digital communications is certainly gaining a lot of momentum, and we are proud to be at the forefront.
Secondly, we are really excited about all of the new clients joining our platform. These clients represent some of the most significant brands in higher education and healthcare fundraising. And the individual client partners spearheading each new system represent an amazing array of talent, experience, and enthusiasm. We welcome them aboard! We cannot wait to see all of the mutually beneficial growth that will flow from our work together.
In terms of technology, it is safe to say we have come a very long way from simply proving our idea was possible. With the recent addition of the embedded analytics module, Ovrture is no longer a cul-de-sac where content is simply built and shared. We have matured to become part of a "digital advancement office's" constellation of technology… pulling data in and pushing data back out.
Finally, as we move forward, we are now making deep investments into Single-Sign-On capabilities (as a member of the inCommon Federation). Additionally we will focus on further documentation of our security and compliance posture, and the creation of an API connector available through the Salesforce App Exchange.
In conclusion, we thank every client for their continued belief in what we have built and are building upon every day. We hope you find this year's State of the Platform update helpful.
Kaizen, Chris
What's Kaizen?
From the Japanese words "kai-," which means "change," and "-zen," which means "good." Kaizen is also known as "The Toyota Way." We've adopted "Kaizen" as our Ovrture rallying cry. We encourage our entire team to strive for continuous improvement. This applies not only in the functionality of our platform. But in the ways we work, and in all aspects of our business.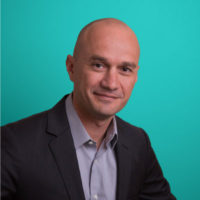 CHRIS SNAVELY
Managing Partner
CHRIS SNAVELY
Managing Partner
Chris leads the Ovrture team in building, maintaining, and enhancing the platform. He also works directly with clients to build systems, drive adoption, and conceive of new use cases. Believing that the application of new thinking is what drives the world forward, Chris takes great pride in bringing a far more efficient and modern approach to the "digital advancement office."